02 Dec
Water Slide Inflatable are heaps of fun during the summer days! They provide semi-portable fun whenever you're looking to get wet on a hot day and they can be used in backyards, schools…almost all the occasions. When using a water slide inflatable, there are many reasons that you didn't recognized that brings the damages.
Here are some tips on how to use them to keep them in good condition.
1. Take care when moving your water slide. When you move your slide form one place to another place, you will need to choose a pickpocket tool like a trailer, automatic crane..to make the loading and handling more easier since most damages occur in moving and delivery.
2. Follow the warning and Tips. Before allowing the player gong into the waterslide, not only the owner of the slide, but also the players should read the warning and tips on the front of the slide(that made by the manufacture): Remove shoes, eyeglass, jewelry…No sharp objects, food, pets…You should know these rules and knowledge to avoid the damages and danger occurring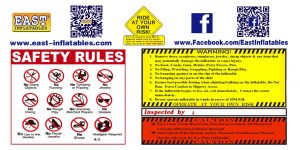 3. Cleaning and Drying Water Slide. Every time after using the water slide, you need to remember to remove the misting system, check the objects left in the slide, and rinse off any large areas that are covered with grass, mud, or sand. Make it as clean as you can. You also need to keep the blower working and open the zipper, push down the on the pool wall so it can drain while the slide is still inflated to make sure the inside structure completely dry as well.
4. Store a deflated water slide. When you get your slide packaged well, you need to put it in a clean and dry place so that it can be in good conditions for your next party or business season.