10 Apr

What could be better than a water slide to cool offer that hot summer party? A Inflatables Slide for your swimming pool is sure to add hours of fun for both kids and adults! All of the Inflatables Water Slides from Sale Inflatable are commercial grade made from the highest quality materials. Our goal is to satisfy all the needs of our customers, and offering them dependability and quality at an affordable price. Here are the TOP 3 Slides suitable for the pool and liked by our customers:
Typhoon Water Slide

The Typhoon Water slide is an old time favorite and will keep your guests cool while providing hours of fun. It is a 26 Ft Dual Lane Slide that is combined with a Slip & Slide with Pool! It can be made into three detachable parts. You can use the slide beside the pool, or combine any of the 2 or 3 parts as a new one to use. It's all depending on your requirement.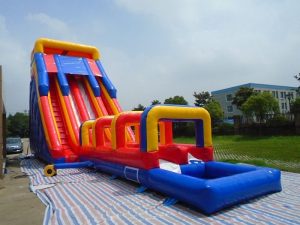 20FT Inflatable Tiki Falls Slide

The Tiki Falls water slide is perfect for any Luau, Hawaiian, Tropical themed events! Kids climb to the top of the water falls, avoiding the Tiki Gods along the way & ride the waves down to the pond where hungry alligators await. The 20FT Inflatable Tiki Falls Slide will bring endless fun to kids and be the hit of your event!
Giant Aqua Inflatable Water Park

The Giant Aqua Inflatable Water Park is definitely a great piece for those hot summer events! Both the kids and adults can swim in the big water pool and play the equipped water games in pool like water ball,water roller, sea balls… It is very popular during summer for all people who like water sports leisure; it is the hottest inflatable product for the rental business to make profit in summer!